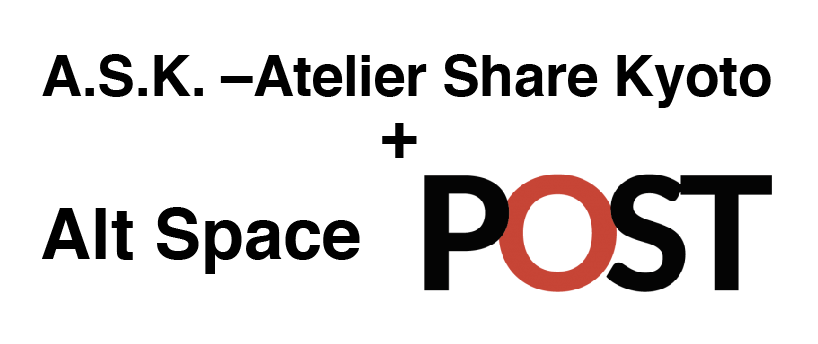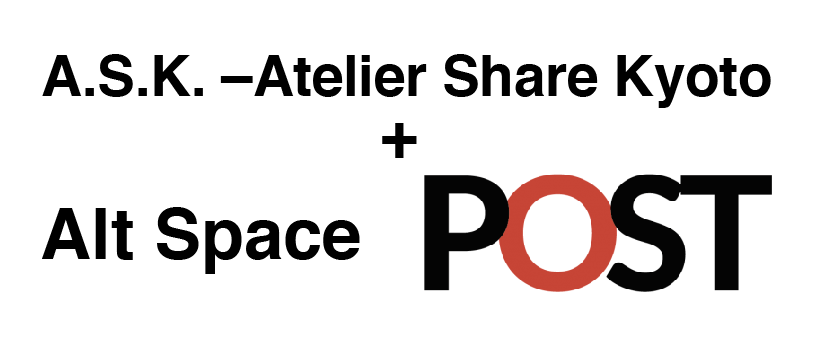 A.S.K. ーAtelier Share Kyoto + Alt Space POST
9/6,7,8
Hours: 11:00 -18:00
Yaemon Bldg, 12, Nishida-cho, Saiin, Ukyo-ku, Kyoto 615-0055 Japan
A.S.K. is a 3-storey building converted from the Kyoto Dyeing Factory, a 10-minute walk from Hankyu Nishikyogoku Station. Currently, there are total 13 artists who understand a wide range of paintings, sculptures, photographs, designs, clothes, dyeing, weaving etc. Also, during the open studio period, the Artist Run Gallery "Alt Space POST" on the 1st floor will held the exhibition called, "The Echo of Songs" by Takuya Yamaguchi and Joel Stewart. There is also a workshop for children during the period.
▪️Alt Space POST on the 1st floor will held the exhibition
JOEL STEWART × YAMAGUCHI TAKUYA 『THE ECHO OF SONGS』
Joel STEWART / Painting
YAMAGUCHI Takuya / Photograph
▪️Event
「YOSHIDA Marimo: Workshop for Children」
「Catering Cafe」
▪️Total 13 artists
FUSIKINO Kaori / Dress Designer / www.sona-fuku.com
KAWAMURA Norio / Sculpture,Installation Art / http://noriokawamura.jp/
KITA Kodai / Painting,Installation Art / http://kodaikita.com
KURATA Kazue / Dyeing and Weaving, Accessories / https://ichiharu.theshop.jp/
NAKAYASHIKI Tomonari / Painting / https://nakayashiki.wixsite.com/tomonari
NARADA Koji / Painting / http://narada-koji.com/
OHMAE Haruna / Sculpture
SAKIKAWA Marie / Performance
Tomas SVAB / Photograph / http://www.23degrees.net
Saori SVABOVA / Photograph
TORII Yuito / Japanese Painting
YAMAMOTO Naoki / Installation Art, Drawing
YOSHIDA Marimo / Design / http://marimo-net.jp/
––––––––––––––––––––––––––––––––––––––––––––––––––––––––––––––––
A.S.K. -Atelier Share Kyoto + Alt Space POST / Representative: NAKAYASHIKI Tomonari / https://alt.space-post.org/contact/ (Alt Space POST, Website Contactform)